Wright State University President Cheryl B. Schrader, who took office July 1, has begun face-to-face meetings with department chairs in their offices, with those in the College of Liberal Arts getting her early attention.
Schrader has already met with 10 department chairs and hopes to meet with each and every one.
"It's important for me to understand what's going on in each department so I can learn about the tremendous academic programs and people at Wright State and how engaged we are in the community," said Schrader. "This is an important investment of my time as we shape the future course of the university."
On Aug. 10, Schrader met with Carol Loranger, chair of the Department of English Language and Literatures. Loranger gave Schrader a tour of the department offices in Millett Hall, and the two had a wide-ranging discussion about various issues.
Loranger noted that the department recently won $114,000 in external research grants and has been successful in getting internships for its students.
Despite outside critics who question their relevance, humanities are an important part of higher education and produce critical thinkers that many employers find highly desirable, Loranger said. The humanities have historically opened the door to degree attainment to all, regardless of background. But she said creating a liberal arts degree that includes cutting-edge technical skills or workplace experience is our imperative.
Most CoLA programs include internships, and several departments, including English, are exploring minors and certificates with cross-campus partners.
Schrader also met with Mary Rucker, chair of the Department of Communication. Rucker applauded the president for her efforts.
"I really think that it's nice of you to go and see the chairs. I've never seen that before," said Rucker, who has been at Wright State for 17 years and chair for three.
Rucker told Schrader that the department will lose four instructors — two due to budget cuts and two who left unexpectedly. If left unfilled, she said, that will present a challenge, especially in teaching vitally important social media classes and in placing students in internships and jobs.
Rucker gave Schrader a tour of the department offices, which included frame after frame of dozens of business cards from graduates in their newfound careers.
Schrader also toured the offices of the Learning English for Academic and Professional Purposes (LEAP) Intensive English program. It provides full-time and part-time English instruction and helps non-native speakers develop the linguistic, academic and social skills they need to be successful.
Schrader met with Director Jeannette Horwitz, and the two discussed a new Pronunciation Improvement course for students, faculty members and professionals in the outside community.
Schrader has also met with December Green, head of the School of Public and International Affairs; Jonathan Winkler, chair of the Department of History; Ava Chamberlain, chair of Religion, Philosophy and Classics; Marie Hertzler, chair of Modern Languages; Glen Cebulash, chair of Art and Art History; Randall Paul, chair of the School of Music; David Goldstein, chair of Biological Sciences; Drew Pringle, chair of Kinesiology and Health; and Stephen Fortson, chair of Human Services.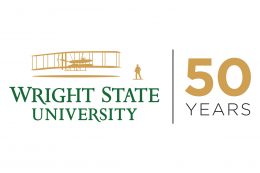 She looks forward to visiting with more academic departments in the remaining next few weeks.
Wright State became an independent institution in 1967 and spent the next 50 years growing into an innovative leader in affordable and accessible education. In 2017, it celebrates its 50th anniversary and sets the course for the next half century.