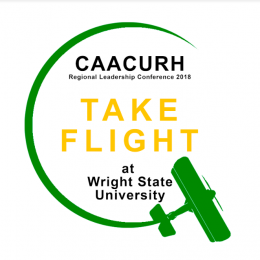 Every year, Wright State resident assistants attend the Central Atlantic Affiliate for College and University Residence Halls Regional Leadership Conference. This year, they don't have to travel far. That's because Wright State will host the conference, which will run from Nov. 9 to Nov. 11.
More than 320 residential student leaders from universities as far away as Maryland are coming to Wright State.
Conference programs fall into three areas: Wellness, which is used to educate residents about living a healthy, safe and balanced lifestyle; Scholarship, which is an opportunity to educate students on strategies and different tools to help residents become successful inside and outside the classroom; and Unity, which encourages diversity and individual development.
Tyler Burnett and Markaya Clayton, two resident assistants at Wright State, are co-chairs for the event. They are assisted by several other resident assistants who are in charge of other aspects of the conference, such as housing and facilities, finance, technology, philanthropy and spirit and communication.
Burnett said he was thankful for the team that helped put the event together and he was looking forward to the weekend.
"We have been working so hard. Our conference team, our advisors and various faculty and staff members of Wright State have helped us out tremendously. Without everyone involved, this would not have been possible," he said. "The excitement, amazing cheers and pride this conference brings is exactly what our university needs."
Delegates can register from noon until 6 p.m. An opening ceremony will begin at 7 p.m., followed by social events for National Residence Hall Honorary members, Residence Hall Association members and National Communications Coordinator members, among others.
On Saturday, Nov. 10, attendees can attend several program sessions on topics related to wellness, scholarship and unity.
Burnett said he was particularly excited that Wright State President Cheryl B. Schrader is the keynote speaker for the conference. "She will address all things motivational about being the best leader that we can be," Burnett said.
Along with the programs, there will be several social events for those attending the conference. In addition, students can work on cutting blankets for Project Linus.