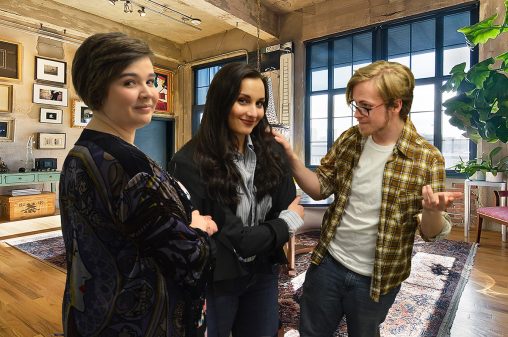 Wright State University Theatre continues its 2018–19 season with the hit musical "If/Then" from Feb. 22 to March 3 in the Herbst Theatre in the Creative Arts Center.
Performances are Feb. 22, 23, March 1, 2 at 8 p.m.; Feb. 24, March 2, 3 at 2 pm; and February 28 at 7 p.m.
Tickets are $25 for adults, $23 for seniors and $15 for students. Tickets are on sale through Box Office at (937) 775-2500 or online.
"If/Then" features music and lyrics by Tom Kitt and Brian Yorkey, who won a Pulitzer Prize and Tony Award for "Next to Normal." "If/Then," which opened on Broadway in March 2014, was nominated for Tony Awards for Best Original Score and Best Performance by a Leading Actress for Idina Menzel.
"If/Then" tells the story of Elizabeth, a newly divorced urban planner who moves back to New York City for a fresh start. Elizabeth meets her friends Kate and Lucas. Kate refers to Elizabeth as "Liz" and encourages her to seek out new experiences in the city. Lucas refers to Elizabeth as "Beth" and encourages her to seek out professional connections to help her career. The musical depicts the two possible paths Elizabeth's life could take while exploring the themes of choice and fate.
In the Wright State production, Elizabeth is portrayed by Rachel Mary Green, with Eric Thompson (Josh), Kat Rodriguez (Kate), Megan Arseneau (Anne), Sam Maxwell (Lucas), Hunter Minor (David), Dylan Tacker (Stephen) and Emily Eliasen (Elena). The Male Ensemble includes Marcus Butts, Jared Levy, Aidan Lord, Dean McKenzie, Jake Siwek and Jeremy Weinstein; and the Female Ensemble includes Amanda Astorga, Emma Bratton, Jessica Greenwald, Andrea Gutierrez, Anna Stanford and D'Kaylah Whitley.
Behind the scenes, "If/Then" is directed by Jamie Cordes ("Heathers: The Musical"), with musical direction by Melissa Yanchek. Musical dance numbers are choreographed by Megan Arseneau. Sets are designed by Carleigh Siebert, lighting by Gabe Reichert, costumes by Victoria Gifford, sound by James Dunlap, stage management by Sabrina Nichols and technical direction by Dylan Lackey.
2018–2019 Wright State Theatre season
The Wright State Theatre season concludes with "A Little Night Music" in the Festival Playhouse from March 21 to April 7.