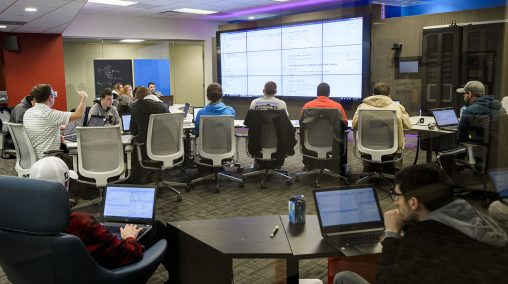 Wright State University's Management Information Systems program is ranked No. 1 in the nation in providing a quality education for military veterans, according to College Factual, a college choice organization that evaluates hundreds of universities.
In its 2019 rankings, College Factual gave the Raj Soin College of Business' bachelor of science program the top spot among the management information systems of 147 colleges and universities it reviewed. That is up from No. 3 the previous year.
Wright State also ranked No. 1 for the second year in a row out of the eight Ohio colleges and universities reviewed.
"Wright State places a high priority on serving the people of our region and we recognize that many of these people are veterans," said Lindsay Miller, the university's interim chief diversity officer. "We take pride in being able to serve them holistically, not only with great academic programs such as this but also with exemplary support services from our Veteran and Military Center."
The rankings were developed to highlight schools that offer quality outcomes in a specific major while also offering support and resources to help veterans and active-duty military students thrive.
"Wright State has made an intentional commitment to ensuring that student veterans have a school that takes their well-being seriously and makes them feel like they belong," said Seth Gordon, director of the Wright State Veteran and Military Center. "These accolades affirm that investment."
In compiling the rankings, College Factual considered the size and percentage of the veteran population, tuition affordability, resources available to veterans, complaints submitted by veterans and overall university quality.
Wright State's Management Information Systems program is designed for students looking to work in businesses, nonprofits and government agencies increasingly relying on data to drive decision-making and increase productivity.
The program offers a broad education in core business skills such as accounting, finance, marketing, management and operations management along with emphasizing business and organizational studies and information systems technology.
Based on PayScale survey data, a student who graduates from Wright State with a degree in MIS realizes average early-career earnings of $48,000 a year and average mid-career earnings of $91,000.
It was the first business school program in Ohio accredited by the Computer Accreditation Commission of Accreditation Board for Engineering and Technology (ABET) and one of the first 20 programs nationally to achieve this accreditation.
"We have long known about the outstanding work done by the faculty, staff and students involved in the MIS major and in supporting veterans and active duty military personnel at Wright State," said Thomas Traynor, interim dean of the Raj Soin College of Business. "The employers of our graduates tell us so and back up their words with great starting job offers and outstanding career advancement outcomes. I am very pleased, but not at all surprised that this success has garnered this independently determined national recognition."
College Factual, located in Troy, New York, is a source of data analytics and insights on college outcomes, covering more than 2,500 colleges and universities and over 350 college majors. Its analysis is available to students from over 50 countries interested in pursuing accredited college degree programs in the United States.