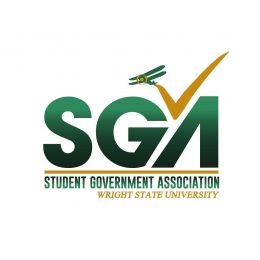 The Student Government Association called for unity in the Wright State University community and urged support for opportunities for students, including through intercollegiate athletics and student organizations.
Through a "Resolution Calling for Unity," the Student Government Association called on "all members of the Raider community to come together in an effort to preserve the countless opportunities available to students and not resort to divisive rhetoric that is meant to divide us in an already difficult time."
The SGA also declared that "athletics and student organizations are essential parts of the college experience and should be treated as such."
The Student Government senate unanimously approved the resolution during a virtual meeting June 7. Read the resolution.
The resolution was drafted in response to high emotional responses from around the Wright State campus, said Ivan Mallett, president of SGA and an international studies major. Mallett said that SGA hopes to send a message that "we do not want division to flare up once more now that more difficult conversations are occurring."
"We are speaking directly on behalf of all students that we want to see the divisive language and behavior end, as well as putting our support behind our student-athletes and student organizations," he said.
Jackson Cornwell, the College of Liberal Arts senator who drafted the resolution, said it was time to say "no more" to division in the Wright State community.
"Wright State alone has been through so much in the last few years, and we've weathered those storms by banding together, and that's exactly how we will persevere now," said Cornwell, who majors in political science and philosophy. "Now more than ever is not the time to divide and fight amongst ourselves. We need to stand united moving forward," he added.
He said the resolution is also a way for SGA to tell students "we see you, we support you, and we are fighting for you."
Wright State President Sue Edwards has said that the coronavirus pandemic has disrupted the university's underlying financial condition. The university reduced spending for the remainder of the fiscal year, which ends on June 30, and will create a multiyear restructuring and fiscal sustainability plan.
Wright State also eliminated the softball, men's tennis and women's tennis teams as part of a $2 million budget reduction in the Department of Intercollegiate Athletics.
Cornwell said it was important for SGA to acknowledge the athletes who teams were eliminated and "say 'we stand with you.'"
Previous budget reductions have included decreases in funding for student organizations, Mallett said, and SGA members want to ensure student life is protected by the university.
"We see the value that student life offers thousands of students across campus and we feel it is our job to speak out on behalf of those students," Mallett said.
In the resolution, SGA says that Wright State consistently produces top-quality education through excellent, passionate faculty, experiential learning opportunities, and a safe and welcoming learning environment.
The resolution notes that students spend most of their college experience outside the classroom, including by participating in student organizations and attending athletic events and events promoting school spirit. Athletic events, SGA says, draw students, faculty, staff and alumni closer together by enhancing a sense of community.
"Students involved with the Office of Student Involvement and Leadership consistently have a higher graduation rate, higher GPA and learn from experiences the classroom cannot provide leading to a more enjoyable college experience," the resolution says.
Cornwell said it is important for SGA leaders to acknowledge and address community problems.
"I've always believed that remaining silent never helps anyone and only causes more harm," he said. "We have a duty as elected leaders to speak up for the students and do everything in our power to support them."
The resolution was sponsored by senators Jackson Cornwell, College of Liberal Arts; Leah Dryden, Commuter; Jonathan Ciero, College of Engineering and Computer Science; Jacob O'Connor, Residential; and Sean McGraw, College of Science and Mathematics; and co-sponsored by Mallett and Adrian Williams, vice president of the student body.