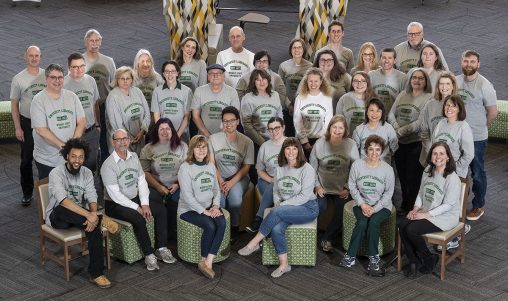 The Dunbar Library is now open for Fall Semester. University Library staff members are ready to assist students, faculty, staff and community users with individual study, materials retrieval, computing and research.
The library has implemented a variety of safety measures in place to keep users and our staff safe including:
Masks required while using the library.
Physical distancing measures including the proper spacing of tables and reduction of chairs at study spaces. Users should not move the furniture.
Sanitation areas on each floor equipped with hand sanitizers and cleansing wipes.
Signage to indicate the flow of traffic in/out of doors.
Used material book trucks near each collection. Users should place any items touched on these carts for proper quarantining.
Dunbar Library hours for Fall Semester are:
Monday through Thursday: 8 a.m. to 8 p.m.
Friday: 8 a.m. to 6 p.m.
Saturday: 10 a.m. to 6 p.m.
Sunday: 1 p.m. to 8 p.m.
Several of library services have been adapted to promote physical distancing and keep our staff and users safe:
Ask a Librarian Service: remote assistance is available from librarians for 78 hours per week. The library offers virtual appointments as well. Users can chat, email, or call for assistance.
Ask an Archivist Service: remote assistance is available from 1 p.m. to 5 p.m. Monday through Friday. The Special Collections and Archives reading room will open on September 8 and will be available only by appointment. Users should schedule appointments one week in advance.
Educational Resource Center: the ERC collection and media lab equipment were added to the Dunbar Library over the summer. The ERC is located on the second-floor annex, near the STAC. For more information about ERC materials and equipment, use the Ask a Librarian service.
Book Stacks: users may browse book stacks but should limit what they touch. Items that are touched and no longer needed should be removed from the shelf and placed on quarantine carts located near each collection area. Staff will pick up these items and quarantine them for the required three-day period.
Self-Checkout: The circulation desk is equipped with a no-touch, self-checkout station.
Book Drop: Users should return items in the book drops outside of Dunbar Library, at the front entrance doors under the overhang and at the entry doors in the tunnels.
Curbside Pickup: patrons may pick up books curbside by calling library staff at 937-775-2525 during library hours. This service is limited to books already on hold. Users can request materials in the catalog using the "Request" button.
OhioLINK and SearchOhio: both delivery services are operational. Request OhioLINK and SearchOhio items in their respective catalogs for delivery to Dunbar Library. Items must be quarantined for three days upon receipt and so the delivery time for this service will increase to seven to 10 days.
Interlibrary Loan: full interlibrary loan services including electronic and print requests, are available. Users can place requests using the interlibrary loan form.
Course Reserves: for assistance with course reserves items, contact the circulation desk staff on the first floor or email library-reserves@wright.edu.
Public Computers: computers, printers, and scanners remain available at appropriate distances. Only one patron may use a computer at a time. Visitors may request a guest account at the first-floor circulation desk. Keyboards are covered and all users are asked to wipe down the keyboard cover before and after use. Alcohol prep pads are available at the computer workstation area and the circulation desk to wipe down the keyboards and mice.
Bookable Rooms: Wright State students, faculty and staff may book individual study rooms after August 31. Patrons should use the cleaning supplies provided on each floor to wipe down their area before and after use.
Whiteboards: whiteboards are available; however, markers and erasers must now be borrowed or purchased at the first-floor circulation desk. Markers and erasers are $1 each. Patrons may bring their own dry erase markers.