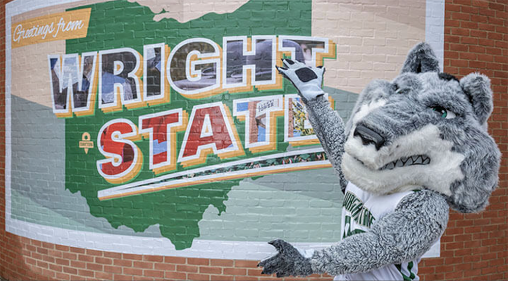 Future students and their families can learn why it's a great time to be a Raider by attending an open house at Wright State University this summer.
Wright State will hold three Raider Open Houses to give future undergraduate students, including transfer students, and their families several opportunities to visit campus and connect with faculty, staff and students from departments and programs from across the university.
Raider Open Houses will be held between 9 a.m. to 1 p.m. in the Wright State University Nutter Center on:
Saturday, May 8
Friday, June 18
Friday, July 23
Registration is required at wright.edu/raideropenhouse.
All guests must register for a designated visit date and time to allow for safe physical distancing. Staggered registration time slots are first come, first served and are available between 9 a.m. to 12:30 p.m. for each event. Each student may bring two guests.
Participants must wear masks during the entire event even if they are vaccinated. Guests should perform a symptom self-assessment before coming to the event.
Two hundred students and guests are expected at each open house.
Raider Open House gives students a glimpse of all that Wright State has to offer. Future Raiders will learn about Wright State's 140 academic programs, financial aid, housing, University Honors program and more. Wright State admissions staff will provide details on how participants can start their application to Wright State and pay for college.
The pandemic has limited many future students' opportunities to visit colleges, including Wright State, said Paige Smith, admissions events manager.
"We want to give the opportunity for those rising juniors and seniors a chance to start their college search by being to visit a campus or talk to someone about their major," she said.
Participants can also learn about Wright State's tuition guarantee program that will enable students and families to more confidently plan their finances and provide an incentive for graduating on time. The tuition program locks in the same annual cost of tuition, housing and dining over a four-year college career for newly admitted, degree-seeking undergraduate students who are Ohio residents.
Future students can also tour campus and check out campus housing throughout the day.
For more information, contact the Office of Admissions at 937-775-5700 or admissions@wright.edu.
Other ways to explore Wright State
Wright State offers physically distanced, in-person daily tours. Available times are listed on the calendar of events. Click on the time slot you are interested in and complete the registration form. Each student may bring up to two guests.
Future students can also explore campus and housing options on a virtual tour at wright.edu/virtual.