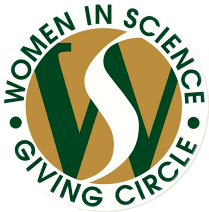 A Wright State University program that enhances the educational and professional success of female students and faculty members in STEMM disciplines has awarded its latest round of scholarships.
The Women in Science Giving Circle is a philanthropic program in which donors pool their money to create opportunities that help to boost the success of women in science, technology, engineering, mathematics and medicine.
Every year the Women in Science Giving Circle awards student scholarships of $1,500 and faculty grants of $5,000. Since its founding, it has raised more than $150,000 and awarded 42 student scholarships and 20 faculty grants.
The 2021–22 Women in Science Giving Circle scholarships were awarded to five undergraduate students majoring in biological sciences, neuroscience, medical laboratory science and materials science and engineering:
Biological sciences major Jeemi Shah studies insect respiratory physiology. The goal of her research project is to elucidate the process of respiratory gas exchange in the Tobacco Hornworm.
"Jeemi has demonstrated the excellent characteristics of enthusiasm for learning, an independent motivation to learn new things and a fascination for discovery," said Lynn Hartzler, Ph.D., associate professor of biological sciences.
The research by materials science and engineering major Sabrina D'Alesandro focuses on image processing techniques.
"Her current research performance as an undergraduate is a testament towards future contributions in breadth of research areas," said Joy Gockel, Ph.D., former assistant professor of mechanical and materials engineering. "Sabrina is well-prepared to continue technical contributions as an asset and a leader within the community."
Maureen Roddy, a medical laboratory science major, contributes to research examining the potential for sediments dredged from Lake Erie to be used as a soil amendment on degraded soils.
"Maureen stands out for her work ethic, positive attitude and contributions to the community, attributes which speak highly of her potential as a member of the scientific community," said Megan Rúa, Ph.D., assistant professor of biological sciences.
Neuroscience major Kelsie Pyle, an Honorable Mention recipient, focuses on research of the Rab3A protein, which may play a role in disease development.
"What impressed me is how quickly Ms. Pyle learned the analysis procedures," said Kathrin Engisch, Ph.D., associate professor of neuroscience and interim dean of the College of Science and Mathematics. "She also presented the results in an easy-to-understand way."
Biological sciences major Alana Mullins, an Honorable Mention recipient, is involved with research of how aging plays a role in ALS, a devastating neurodegenerative disease that robs patients of the ability to move and breathe.
"She is very intelligent, organized and dedicated to her studies and professional development," said Jason Diebel, Ph.D., associate professor of physics.
Two faculty members were selected to each receive a $5,000 research grant:
Sydney Silverstein, Ph.D., assistant professor of population and public health sciences, whose research studies experiences of addiction and recovery.
Melanie Marshall, Ph.D., assistant professor of biological sciences at the Lake Campus, who studies the sources of excess nutrients entering streams and lakes that help create harmful algal blooms.