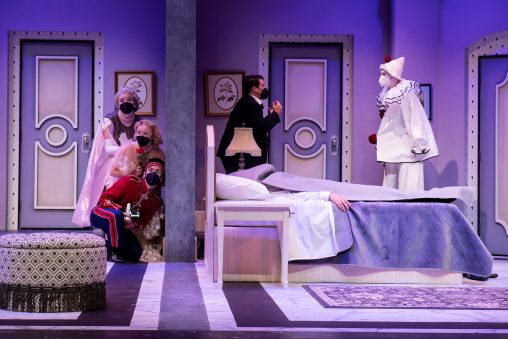 Wright State University delivers an enjoyably amusing production of Ken Ludwig's 1989 Tony Award-nominated farce "Lend Me a Tenor," continuing through Sunday, Oct. 3 in the Festival Playhouse of the Creative Arts Center.
Ludwig's romp, briskly directed by Joe Deer, is set in a luxurious Cleveland hotel suite circa 1934 (scenic designer Pam Knauert Lavarnway and costumer Zoë Still strikingly capture the period). Mistaken identity and slamming doors abound when beloved Italian opera star Tito Merelli is unable to appear in "Pagliacci." Looking for a replacement, Cleveland Grand Opera general manager Henry Saunders asks his loyal assistant Max to assume the role. Madness quickly ensues.
Here are five reasons to see Wright State's season opener, featuring an entirely masked cast due to health and safety protocols.
1. Guaranteed laughs from start to finish
Hailed by critics as "the most inventive, original farce in a long time" and "a furiously paced comedy with more than a touch of the Marx brothers," "Lend Me a Tenor" remains one of the most popular American farces of the last 35 years. "We want to welcome our audiences back with an evening of pure silliness," said Deer, in a release. "For me, it's a chance to revisit one of my favorite plays and to teach students how this kind of comedy works – and they are very quick studies. This promises to be one of the most delightful shows we've ever done. I know our audiences will leave the theatre exhausted from laughing."