In her new novel, "Deer Season," Erin Flanagan, Ph.D., examines what happens in a small town when tragedy strikes and whether the town's residents would protect each other or turn on their own.
Set in a small rural community in Nebraska in 1985, "Deer Season" focuses on a teenage girl who has gone missing. At the same time, a mentally challenged farmhand returns from his first hunting trip with blood in his truck and a somewhat flimsy excuse for what happened over the weekend.
Flanagan, a professor of English language and literatures at Wright State University, grew up in a small town similar to where "Deer Season" takes place.
It was one of those places where everyone knows everyone else's business and was a safe place to grow up, she said.
Although the town had little racial or class diversity, some residents were "still on the outskirts in their own ways," Flanagan said. "I started asking myself who might not feel so safe in such a town, and how would the residents react if that safety was in danger?"
As a writer, Flanagan focuses on her characters before developing the plot. As she gets to know them better by writing, she devises a situation to place them in.
"The more I write the more I figure out who they are," she said. "I've never been able to do full character sketches first. It's always a discovery. It's like getting to know someone."
"Deer Season" is the first full-length novel Flanagan has published. She previously published two short-story collections: "It's Not Going to Kill You, and Other Stories" in 2013 and "The Usual Mistakes" in 2005.
After writing short stories for a while, Flanagan wanted to return to working on novels partly for the challenge and because of her love for novels.
"I think they're these interesting little puzzles," she said. "As a writer, I was pretty determined I would make one of those work finally."
It took Flanagan five years to write "Deer Season." After completing the first draft, she was burned out and took a year off from the book and creative writing.
"I had been writing for a couple of decades and it just wasn't fun anymore," she said. "I took a year off and devoted it to reading and writing book reviews. That revitalized me to keep going."
Flanagan was also inspired by Jess Montgomery, a friend who writes historical mysteries. Montgomery showed Flanagan how she plots out her mystery novels using an Excel spreadsheet, giving Flanagan some ideas about how to organize her book.
"Somebody needed to tell me 'Oh, you can do this, you just need to figure out how to do it,'" she said. "It made all the difference."
Abandoning "Deer Season" never occurred to Flanagan, who describes herself as "very persistent." She always knew that after taking a break she could return to the book with fresh eyes.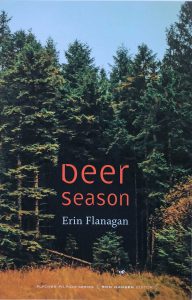 "I always tell my writing students persistence will get you a lot further than talent," she said. "I'm not one to abandon very many projects. I will get my teeth into it and work till the end. And, eventually, with enough hard work, it will come together."
Flanagan teaches Introduction to Fiction Writing and Advanced Fiction Writing and special topic courses that include novel writing, narrative time and fiction, and creative nonfiction.
She uses her own writing experience to help inform her classroom lessons while being mindful that every writer approaches their craft differently.
"I try to help my students stay open to whatever their process might be and nudge them along with some tips that are tried and true," she said. "I think I'm much more open about the difficulties of writing, and I feel much more in the same boat as them the longer I've done it. I hope that's encouraging to them."
Flanagan received her bachelor's and master's degrees in English and her Ph.D. in English with a specialization in creative writing from the University of Nebraska at Lincoln.
She started writing as a child, producing what she described as "ridiculous stories" based on prompts from her fourth-grade teacher. After taking an undergraduate creative writing class, she fell in love with the craft.
"It was the first time I had read contemporary short stories," she said. "I fell in love."
Then in graduate school, she took a creative writing class on a whim and eventually read one of her stories publicly in a reading series. While she was petrified, her story was well-received, she recalled, and the experience "gave me the confidence to try this and see how it goes."
It's clearly going very well.
Next August, Flanagan will publish her second novel, "Blackout," which she describes as more of a thriller than "Deer Season."
"Blackout" focuses on a woman in Dayton who is a recovering alcoholic and starts experiencing mysterious blackouts. After discovering that other women in the city are suffering the same fate, she attempts to learn more about who is causing the blackouts and how she can stop them.