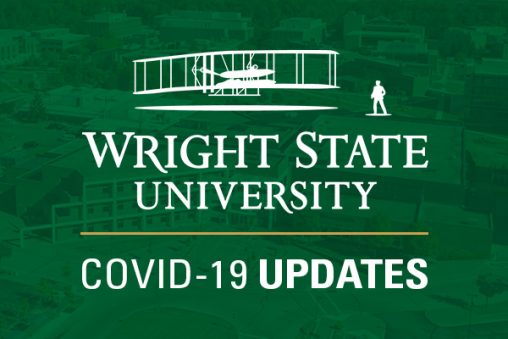 Due to recent federal policy and regulatory changes, Wright State University will now require all employees, including student employees, to be fully vaccinated against COVID-19. All employees must confirm their vaccination status by Jan. 4, 2022, the university announced in an email (PDF) sent to Wright State faculty, staff and student employees on Nov. 22.
Employees who wish to obtain a university-approved medical or religious exemption must do so by Jan. 4, 2022. Requests for medical or disability accommodations must be submitted to the Office of Disability Services by emailing ada@wright.edu.
Employees who believe that COVID-19 vaccination violates a sincerely held religious belief may request exemption using this exemption form (PDF).
More information on Wright State's vaccine requirement for employees is available at wright.edu/coronavirus/vaccines.
The vaccine requirement for employees follows President Biden's Executive Order 14042, which mandates workforce-wide COVID-19 vaccination for federal contractors and subcontractors, with exemptions for medical/disability and religious reasons only. Biden's executive order covers employees, including student employees, of federal contractors and subcontractors.
"Like every other research university nationally, Wright State must either accept these new contract provisions or discontinue its relationships with the federal government and its contractors," the university said in its email. "The university's relationship with the federal government, and especially with the Department of Defense and Wright-Patterson Air Force Base, are critical to the success of our educational and research missions."
University employees can confirm they are fully vaccinated by uploading an image of their federal COVID-19 vaccination card on Med+Proctor, a secure medical third-party website. The reporting process is free.
While Wright State strongly encourages non-employee students to get vaccinated and confirm their vaccination through Med+Proctor, the university currently will not require students (other than students who work for the university) to be vaccinated against COVID-19.
Wright State has encouraged students, faculty and staff to get vaccinated by organizing a voluntary vaccination giveaway. After uploading an image of their vaccination card, students and employees can enter the giveaway for a chance to win one of 80 prizes.
Registration for the giveaway closes at 11:59 p.m. on Monday, Nov. 22. Giveaway drawings will occur on Dec. 1 and presumptive winners will be notified within one week of the drawing.
Employees who have already uploaded an image of their vaccination card are in compliance with the vaccine requirement and do not have to take further action is needed at this time.
The university considers an individual fully vaccinated 14 days after receiving the final dose of an approved COVID-19 vaccine: Pfizer, Moderna and Johnson & Johnson, and vaccines listed on the WHO Emergency Use Listing. Booster shots are not currently part of this requirement.
Vaccine appointments are available to employees for free at the COVID-19 Testing and Vaccination Center, at 023 Student Union, on Wednesday, Dec. 1.
Vaccinations are also available at Wright State Physicians by calling or texting 937-245-7200 and at most pharmacies. Schedule an appointment at gettheshot.coronavirus.ohio.gov.
Employees who are not fully vaccinated by the Jan. 4 deadline must be able to demonstrate a good faith effort to comply, such as having received a first dose of a vaccine, with a second dose scheduled.
The university will make counseling and education a priority for employees who refuse vaccination or do not upload evidence of vaccination. The university will address refusal to confirm vaccination status through existing, progressive disciplinary processes outlined in university policy and collective bargaining agreements.
The university will continue to monitor pending legal challenges to Biden's Executive Order and will notify the community of any developments.