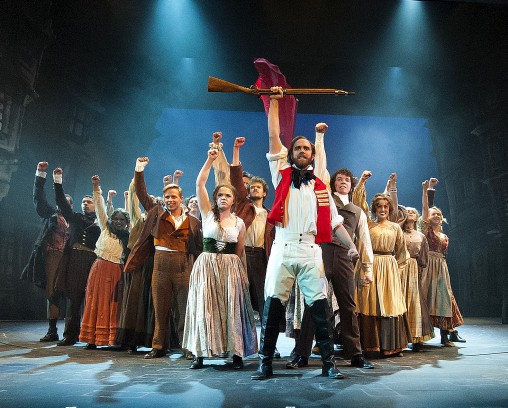 Wright State University Theatre continues its 39th season in the Festival Playhouse with the Tony Award-winning Les Misérables March 20 through April 6.
The production features a cast of 40 actors, singers and dancers, and is supported by a crew of equal number, a large revolving stage, lavish costumes and sets, and an orchestra of 18.
Department of Theatre, Dance and Motion Pictures Chair W. Stuart McDowell, Ph.D., said it's a production that's been 20 years in the making.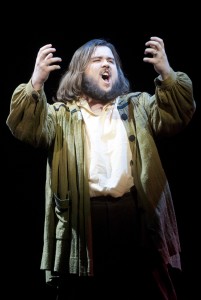 "It's been a show we've wanted to do ever since I first arrived as chair two decades ago, and is a culmination of all of many of our programs drawing students from across the country. We have a cast that comes from six states, including Michigan, Oregon, Kentucky, Georgia and virtually every corner of Ohio," said McDowell.
Les Misérables made its Broadway debut in 1987, ran for 16 years and has been remounted on Broadway and multiple tours several times since, including the current season on Broadway. It also continues its record-breaking run on London's West End.
The story of the musical follows closely the novel of 1862 by Victor Hugo. Jean Valjean (Prisoner 24601) is imprisoned in Bagne Prison in Toulon, France, in 1815, for five years for stealing bread and 14 years for trying to escape. Valjean is released on parole by police officer Javert. As a stipulation Valjean is required to wear a yellow ticket of leave identifying himself as an ex-convict. After being continuously blackballed by society he decides he will start a new life as Monsieur Madeleine.
Les Misérables is directed by McDowell (The Phantom of the Opera, Jekyll and Hyde). Choreography is by guest choreographer Dyonisia Williams (Wright State Theatre's Spring Awakening). The set is designed by Pam Lavarnway, lighting by Erin Jones and Matt Benjamin, properties by John Lavarnway and sound by James Dunlap.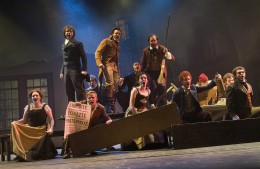 On the stage, this production features Andrew Quiett (Jean Valjean), Law Dunford (Javert), Amy Wheeler (Fantine), Ian Benjamin (Thenardier), Cassi Mikat (Madame Thenardier), Zack Steele (Marius), Kaitlyn Sage (Cosette), Liz Romey (Eponine) and Mark Beyer (Enjolras). The ensemble inclues Tyrell Reggins (Bishop of Digne), Connor Lysholm (Combeferre), Brandon Kinley (Feuilly), Bailey Olean (Joly), Keaton Eckhoff (Grantaire), Jim Miller (Lesgles), Drew Bowen (Jean Prouvaire), Owen Kresse (Montrparnasse), Peter Cutler (Babet), King Jones (Brujon), Brandon Ramos (Claquesou), Kate Meuller (Lady 1), Bradley Farmer (Lady 2), Emsie Hapner (Lady 3), Alyson Snyder (Lady 4), Paige Dobkins (Lady 5), Bailey Edmonds (Lady 6), Abby Murray Vachon (Lady 7), Sabria Wynn (Lady Eight) and Kelsey Pohl (Innkeeper's Wife). Making their Wright State Stage debuts are Emma Fry (Little Cossette), Abby Fry (Younge Eponine) and Connor Iverson (Gavroche)
Performances are March 20 and 27 and April 2 and 3 at 7 p.m.; March 21, 22, 28, 29 and April 4 and 5 at 8 p.m.; and March 23, 29, 30 and April 5 and 6 at 2 p.m. Tickets are $22 for adults, $20 for seniors and students.
For tickets and theatre information, call the Box Office at (937) 775-2500, or order online at http://www.wright.edu/tdmp.