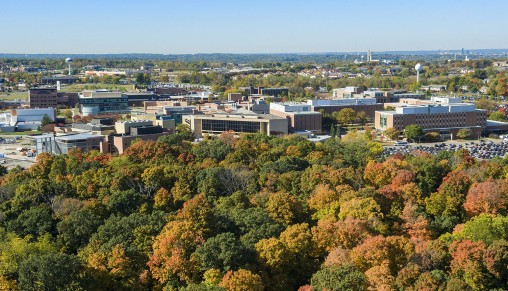 Wright State University will create a centralized structure for all compliance functions, led by a newly created director of university compliance position.
The director will coordinate, oversee and monitor all of the university's existing compliance functions. The new position will report to the university's chief operating officer, who is President David R. Hopkins, and the Compliance and Audit Committee of the Wright State Board of Trustees.
The centralized Compliance Program, which was recommended after a review overseen by the Board of Trustees, reflects the growth and complexity of both the university and its research operations.
The new director will oversee the university's responsibilities to comply with state, federal and university regulations and policies. Wright State has 22 individuals or units involved in compliance for such areas as research, environmental health and safety, police, information security, disability services, athletics and human resources.
"The Compliance Program will help the university reach and sustain a mature infrastructure to support all the elements necessary for a strong Compliance Program. It will also define accountability and responsibility for all compliance functions," said Michael Bridges, chair of the Wright State Board of Trustees.
"This builds on the compliance that we already have, which is strong, and prepares us to move into the next 50 years of the university's history," Bridges said.
The Board of Trustees approved the program and the creation of the compliance director position at its April 29 meeting. A search for the director of university compliance will begin immediately.
To encourage collaboration among those involved in compliance efforts, Wright State will also create a Compliance Council, chaired by the new compliance director. The council members will include compliance unit leaders and faculty representatives.
"The structure of a centralized director of compliance with a university-wide Compliance Council is designed to make sure nothing inadvertently falls through the cracks," said Doug Fecher, vice chair of the Board of Trustees and chair of the Compliance and Audit Committee.
Fecher described the new program as an insurance policy.
"It's not enough to do the right thing, you need to do compliance in the right way. And centralizing it with a reporting line to the Board of Trustees gives it the weight it needs that the university will understand that compliance is foundational," he said. "We have to do it right on behalf of our students, on behalf of our faculty, on behalf of our staff."
Members of the Board of Trustees said the new program and the compliance director will help strengthen Wright State's culture of compliance.
"Virtually every aspect of the university involves compliance, and the new plan will bring that accountability and responsibility together under a director to ensure that we're proactively implementing compliance," Bridges said.
"You need a strong enough foundation to maintain a skyscraper not just a one- or two-story building. Compliance is part of the foundation," Fecher said. "If you don't have it you don't have a strong enough foundation to support the heights you might want to soar to."