Turning a can of Pringles potato crisps into a rocket is just another day at the office for science educator Kevin Cornell.
He pokes a hole in the side and top of the can, pumps in hydrogen to purge the can of oxygen, and lights the top. The explosion propels the can skyward and leaves a tower of potato crisps that tumble and puddle on the table.
"The sound is amazing," said Cornell.
It's all recorded in a YouTube video — one of 131 made by Cornell over the years. There is also Dry Ice Fun, Fire Tornado, Watermelon Smash, Slinky Drop and Boiling Water Toss in Subzero Temperatures, among many others.
The science videos are the brainchild of the 39-year-old Cornell, a two-time Wright State University graduate known affectionately as Mister C who is Ohio's 2016 PBS Lead Digital Innovator.
Cornell grew up in Germany at Ramstein Air Base and then in Frankfurt, where his father supported the U.S. military. The family moved to Fairborn when Cornell was 15 and he graduated from Fairborn High School in 1997.
He enrolled at Wright State, earning his bachelor's degree in education in 2001 and his master's of science in teaching in 2005.
Along the way, he got a job teaching fifth-grade science at Menlo Park Elementary School in Huber Heights. He threw himself into inquiry-based learning in which he and his students learned together through shared experiences.
"Kids have an innate curiosity and if you provide entertaining, engaging, authentic learning, kids just naturally gravitate towards it," he said. "When kids are in the center of learning, things can happen that typically don't happen when the teacher is driving instruction."
Cornell would set up a scenario, such as giving his students a D battery, a small wire and a light bulb, then ask them to find four ways to light it. The students then had to build a town out of Legos and wire the houses.
"The idea of it drives them," he said. "They start understanding really what's going on. They're experiencing, they're playing, they're learning. And you can see the growth of the students over time. They now have the confidence and understanding to attack problems and look for information."
The idea of using music as a learning tool came to Cornell during his first year of teaching, in 2002. He brought in his own recording equipment and he and the students made karaoke versions of Christmas songs about electricity, heat transfer and other science concepts and put them on CDs. Then Cornell decided to make his own songs and videos and in 2010 created a YouTube channel so the content could be viewed online.
"Initially, I was creating the songs so I could help the kids in my classroom understand these concepts," said Cornell. "Once I moved out into the world of social media, I had a bigger audience. I can create videos now the entire world can watch if they're interested. I remember when I got my first 100 subscribers, I thought it was amazing."
Today, Cornell's YouTube channel has 7,000 subscribers, and his videos have over 2 million views.
"Being able to share that content electronically through social media — Facebook, YouTube, Twitter, Instagram — you're building a network of learners that otherwise didn't exist 10 years ago," he said. "It's very powerful."
Cornell describes himself as a "proud Raider."
"I feel like everything that I've done at Wright State really allowed me to challenge myself and gave me that confidence," he said. "It gave me the tools and the skill set to really go out and pursue my dream of being an educator. I think I'll have the ability to continue preparing kids for the future because of the quality of the education I received at Wright State."
After teaching at Menlo Park, Cornell went on to become a math curriculum specialist, principal at Valley Forge Elementary School in Huber Heights, curriculum supervisor in the district office and director of human resources. He then returned to being a curriculum supervisor, at Beavercreek City Schools, and most recently was director of the Dayton Regional STEM Center.
Many of Cornell's videos are shot in the family kitchen by his wife, Heather. His 13-year-old daughter, Jacqui, co-stars in some of them. One video has the two of them using dry ice to make ice cream.
"Having her in the videos allows the audience to say, 'I can do this science lesson at home with my family,'" said Cornell. "There is discussion about sublimation, there is discussion about chemical reaction and physical changes."
Cornell has partnered with Dayton PBS member station ThinkTV to build a new series called "Full Steam Ahead," 60-second science segments that offer viewers such experiments they can do at home. He is currently shooting Season 2. Full STEAM Ahead airs on CET|Cincinnati and ThinkTV|Dayton, eight times per day, 365 days per year on the PBS Kids 24/7 Channel.
Cornell will also have a new science show at Dayton's Victoria Theatre in May 2019.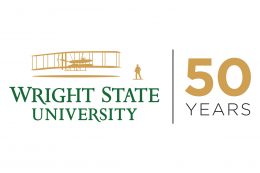 "I think entertainment is a huge factor in getting kids hooked, but I also think you have to be real and authentic," he said.
Cornell has decided to step away from the traditional education career and go independent so he has more time to create songs and videos. He also plans to provide professional development for school districts as a consultant and to do educational outreach, such as staging Mister C events for schools, art studios, businesses and other organizations.
"I really want to focus on this idea of reaching more kids and having a bigger impact," he said. "Although I don't have a traditional classroom anymore, I still have a classroom — it's the world."
Wright State became an independent institution in 1967 and spent the next 50 years growing into an innovative leader in graduate education. In 2017, it celebrates its 50th anniversary as an independent public university, culminating with a special Homecoming celebration Sept. 29 through Oct. 1.