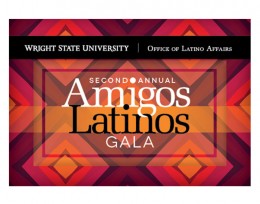 The Latino community at Wright State will come together for dancing, music and dinner at the second annual Amigos Latinos Gala on Friday, April 24, from 5 to 10 p.m. in the Wright State Nutter Center Arena.
Hosted by the Office of Latino Affairs, the celebration is open to the public.
The gala is expected to bring in about 300 to 500 individuals, nearly double from last year, said Tony Ortiz, associate vice president of Latino affairs at Wright State.
This year's gala is different from the first gala because organizers will give out awards, will raise double the amount of proceeds, and the Amigos Latinos Alumni Society will host a silent auction.
All proceeds will benefit El Puente Learning Center and Latino student scholarships at Wright State.
"It's our investment to our students to show them that we care. The less time they have to worry about their finances the more they could spend on their studies," Ortiz said. The Melissa Ortiz-Bebbington Memorial scholarship was established in the name of Ortiz's daughter.
"Our biggest potential for growth at Wright State is Latino students. They show the biggest incline in national graduation rates, and the goal of our office is not only to get them but to keep them," said Ortiz.
Ortiz says the Latino community on campus wants to share their culture with non-Latinos through the gala. Two students will be seated at each table so students can network with employers and build opportunities.
"Like the name, Amigos Latinos, you don't have to be a Latino to be a friend," Ortiz said.
Speakers at the gala include state Rep. Rick Perales and Wright State President David R. Hopkins.
The gala will feature Latino cuisine, speakers, dancing and music by Son del Caribe.
Individual tickets are $50 and sponsorships are $1,000, which includes eight tickets, program listing and recognition at the gala.
Limited tickets are available. Learn more or register >>