Our namesakes, the Wright brothers, used ingenuity and innovation to make a lasting impact on the world. Today, we rise on their wings, prepared to shine, as we lift our university to new heights. Ahead, we see a bright future, one where Wright State is a new model for higher education: a public institution that is imaginative, unafraid to take risks, and nimble in adapting to the needs of a fast-changing world.
To reach that future, we are embarking on Rise. Shine. The Campaign for Wright State University.
A Night to Shine 
On October 18, 2014, President David R. Hopkins announced Rise. Shine. The Campaign for Wright State University to more than 600 students, faculty, staff, donors, and other special guests at the Wright State University Nutter Center.
It was truly a night to shine as the Nutter Center was transformed into a dazzling landscape that included a glittering makeshift chandelier and a kaleidoscope of towering video screens.
Eddie McClintock, a 1991 Wright State graduate who has appeared in numerous TV shows and most recently played the role of a Secret Service agent in the popular Syfy series Warehouse 13, served as master of ceremonies.
Wright State performing arts students took to the stage to showcase their talents in singing, dancing, and music. Speed painter Aaron Kizer delighted the audience by painting portraits of university namesakes Orville and Wilbur Wright upside down and then flipping them right side up with a flourish. And there were poignant personal stories from Wright State students Emily Bingham, Aaron Palmer, and Ian Kallay.
Academy Award–winning actor, producer, and director Tom Hanks and Amanda Wright Lane, great grandniece of the Wright brothers, are spearheading the Rise. Shine. campaign as co-chairs.
In an impassioned speech, Wright Lane told guests: "The most important reason to be a part of the Rise. Shine. campaign lies in the backpacking, parking space–seeking humans who roam this campus daily, aka the students or the 'kids' of the Wright State family. This campaign's and this university's mission is to provide the tools for every student's success."
Hanks, who could not attend the campaign launch due to a filming commitment, recorded a special video message for guests.
"Wright State is a rising leader in 21st century higher education," said Hanks. "From groundbreaking research to world-class fine and performing arts, this university truly has a mission that matters."
The evening was capped off with the announce-ment that the university had already raised more than $107 million toward the $150 million campaign goal. This includes a record number of gifts from alumni. At least 10 Wright State graduates have each pledged $1 million or more to the Rise. Shine. campaign.
Our Time to Rise
As Wright State University approaches its 50th anniversary in 2017, we are already moving boldly into a new era of tremendous change, unprecedented challenge, and unlimited opportunity.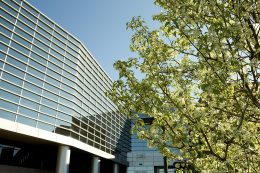 We are leading the way by continually evolving to deliver an education that is eminently relevant and financially accessible and that meets the changing needs of students, the real-world economy, and our collective future.
Through the Rise. Shine. campaign, we will level the playing field for our students, unveiling a world of possibilities and reachable dreams.
"This campaign is all about student success. It will change Wright State forever and the generation of students to come," said Wright State University President David R. Hopkins. "It's going to grow our prominence and relevance in 21st century education."
The Rise. Shine. campaign will generate funds for numerous initiatives on campus, including:
Increased opportunities for scholarships, undergraduate research, and experiential learning
Endowed professorships to attract top scholars
Construction of facilities that will propel Wright State students and faculty to the forefront of their fields
In addition to the campaign launch in Dayton, Wright State will take the Rise. Shine. campaign on the road with regional events throughout the United States in 2015.
"This is our time to shine," Hopkins said. "People are going to be talking about Wright State not only in this community, but across the state and nation. Our time is now."
INDIVIDUALS.
At its core, Wright State University is about people. We will increase scholarships to keep college within reach of promising students. We will foster undergraduate research, giving students hands-on experiences that set them apart in a competitive job market. We will also support faculty by establishing endowed professorships to attract top scholars to Wright State.
ENVIRONMENTS.
Twenty-first century learning must take place in 21st-century facilities. Campaign support, together with state capital budget and bond funding, will allow us to strategically invest in new construction as well as modernization of current buildings. These projects, touching every aspect of the student experience, will create optimal teaching and learning spaces.
INNOVATIONS.
Over the past decade, Wright State has grown into a well-respected public research university. Now we aspire to be a national model for change in higher education. Indeed, some of our innovations are already being emulated across the country. With campaign support, we will advance these efforts that change lives and open doors to new discoveries.
"This is our time to shine. People are going to be talking about Wright State
not only in this community, but across the state and nation. Our time is now." 
—David R. Hopkins, President, Wright State University
Regional Launches
Join us at one of the upcoming regional launches for the Rise. Shine. campaign. Other dates and locations to be announced.
Columbus: Saturday, June 13
Columbus Idea Foundry
New York City: Thursday, September 10
United Nations
Los Angeles: Friday, September 25
The Lot
Washington, D.C.: Saturday, October 17
Congressional Country Club