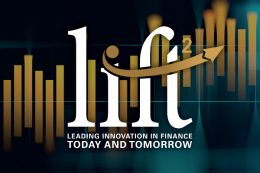 How to leverage financial intelligence, meet the financial needs of seniors, and build financial practices are among the topics at the sixth annual LIFT2 Symposium hosted by the Wright State University Raj Soin College of Business and the Department of Finance and Financial Services.
The Leading Innovation in Finance Today and Tomorrow (LIFT2) Symposium is scheduled for Friday, March 27, from 8 a.m. to 6 p.m. in the Student Union.
The regional event is largely designed for practicing professionals in the banking, insurance, accounting, investing and financial planning industries.
It features discussions on pressing issues in finance and financial services, transformative presentations from a who's who of the financial services industry, and the opportunity to network with peers and students from regional universities.
This year's symposium will feature three keynote speakers: Doug Lennick, CEO and co-founder of Think2Perform; Steve Gresham, wealth management executive and Whealthtech investor; and David Grau Sr., president and a founder of FP Transitions.
Lennick will speak on "Leveraging Your Financial Intelligence: At the Intersection of Money, Health and Happiness."
A certified financial planner, Lennick is known for his innovative approaches to developing high performance in individuals and organizations and is an expert at practical applications of the art and science of human behavior. Before founding Think2Perform, Lennick was executive vice president for advice and retail distribution for American Express financial advisors (now Ameriprise Financial). In that capacity, he led 17,000 field and corporate associates.
Gresham's keynote topic will be "All Eyes on You: The Financial Advisor of the Future Is a Leader."
Gresham is a longtime consultant, executive and investor in the wealth management industry. During his 38-year career, he has led several successful transformations, most recently as executive vice president and head of the private client group at Fidelity Investments, serving more than 9 million families with $1.6 trillion in assets.
Grau Sr. will speak on "Buying, Selling and Valuing Financial Practices."
As a former securities regulator and securities attorney, Grau Sr. has helped financial advisors set up practices, take them apart and everything in between. Named one of the most influential people in the profession by Financial Planning Magazine, he is a nationally recognized expert on succession planning in the financial services industry.
The LIFT2 Symposium will also feature breakout sessions that include hot topics in Social Security, the economic outlook in times of trade uncertainty, and introduction to a unique investment alternative called structured investments.
The symposium is free for Wright State students. Registration is $25 for students from other universities, $125 advance general registration and $150 for those who register the day of the symposium. Up to seven continuing education credit hours are available for a variety of industry certifications.
The symposium schedule and registration information are available at wright.edu/LIFT.