Excerpt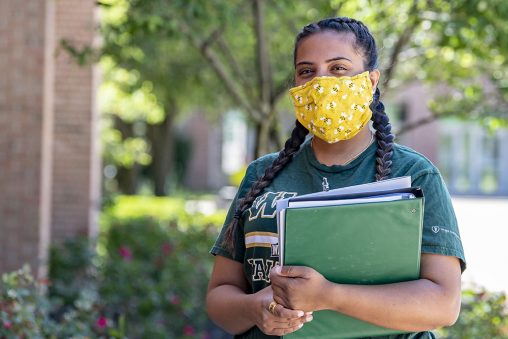 Though the fall semester will start on schedule, in-person instruction will remain limited at Wright State University when its Fairborn and Lake campuses reopen in August.
The university estimates one-third of its classes will have in-person components when instruction resumes Aug. 24, according to an announcement Tuesday. Content also will be delivered remotely for the majority of classes to provide flexibility for students who are unable to come to campus.
Broad categories of courses that may be held on campus include practica, clinical, lab sections and lab-based courses, studio courses in the arts, active learning courses and discussion-based courses. Lecture-based courses with large enrollment will be delivered remotely.
Beginning Nov. 25, all classes will move to fully remote delivery for the remainder of the fall semester. The approach parallels steps taken by the University of Dayton and Miami University, both of which drafted plans for a fall return earlier this month.
In the coming weeks, Wright State will indicate planned delivery modes for each course. Options include fully remote, mostly remote (about 20% in-person instruction), partially remote (between 20% and 79% in-person instruction), in-person only and hybrid-flexible.
"Our aim is to ensure the best experience for our students, taking into account space, scheduling, pedagogical and health concerns for all students and employees," Sue Edwards, president of WSU, said in a campus-wide email June 30. "Our faculty and staff have been flexible and innovative. And out students are amazing and resilient."
All housing communities, including residence halls and on-campus apartments, will be open in fall 2020 with reduced occupancy. Each resident will have a single bedroom, and rates for all communities will remain unchanged. Residents will move back to campus Aug. 20-23 by appointment only.
Athletic teams will report on various start dates, beginning with men's basketball on July 6. Cross country, soccer and volleyball are scheduled to return July 13, with track and field, baseball, golf and women's basketball to return July 20.
Athletic programs will reopen in three phases. In the first phase, face coverings must be worn by all participants at all times, with the exception of student athletes in an active workout activity. The weight room will have a maximum capacity of 10 people, and workouts must be completed on an individual basis with no physical contact from coaches or others.
Measures to enhance safety in on-campus facilities are underway. Wright State has increased cleaning and sanitization of high-touch points, and transaction shields or other barriers will be installed in areas where frequent in-person interaction occurs to ensure a minimum of six feet between people.
All classrooms will be arranged to adhere to social distancing standards, and occupancy limits will be posted for restrooms and elevators. As budgets allow, additional cleaning protocols — including more air purification equipment and sanitizing stations — will be installed.
"When you come to campus, it will feel different," Edwards said. "We are taking extra precautions to keep our students, faculty, employees and visitors safe."
View the original story at bizjournals.com