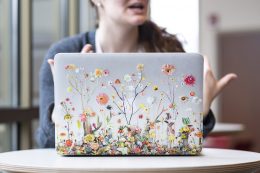 Internships and full-time job opportunities that involve helping the Air Force negotiate contracts and buy night vision goggles, simulators, aircraft and other essential military equipment.
That will be the focus of the first installment of the campus-wide virtual Employer Speaker Series organized by Wright State University's Career Services.
The event will be held Wednesday, Sept. 16, from 11:30 a.m. to 1 p.m. Learn how to participate.
The Air Force's Premier College Internship Program offers a three-month paid internship for the summer at Wright-Patterson Air Force Base as a contract specialist. At the Sept. 16 event, Andre White, a procurement analyst at Wright-Patterson, will detail the requirements for contract specialist jobs.
Contract specialists are at the center of the complex process of supplying and sustaining the Air Force with everything from satellites, electronics and high-performance aircraft to supplies and services necessary for the day-to-day operation of military installations around the world.
White says contract specialists must negotiate contracts with the corporate giants of the defense industry, which will put the interns in negotiations with companies like Lockheed Martin, Boeing and Northrop Grumman. The goal is to obtain the greatest technologies possible to support the warfighter and do so at a price that is fair and reasonable to both the defense contractor and the American taxpayer.
There will be a strong focus on hiring juniors for internships for next summer. All majors are welcome. Those applying for the full-time positions must be U.S. citizens, have at least 24 semester hours in business-related courses and have a minimum 2.95 grade point average.
Full-time contract specialists undergo three to four years of training that includes opportunities to work on a broad spectrum of programs. Much of it will be on-the-job training from mentors, other contract specialists and experts from finance, program management, engineering and logistics fields. There will also be classroom courses in the art of negotiation, contract law, contract pricing and more.
Over the course of the academic year, the Employer Speaker Series will feature speakers who will discuss job and internship opportunities.