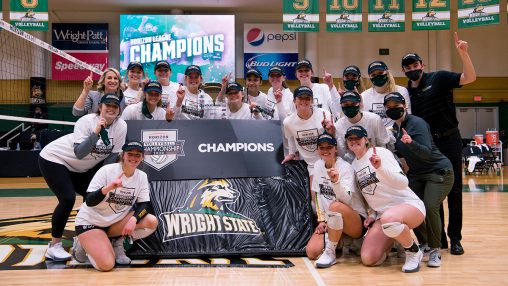 Fresh off its first Horizon League championship in program history, the Wright State volleyball team will take on Samford in the opening round of the NCAA Volleyball Championship.
The Raiders will take on the Bulldogs on Wednesday, April 14, at 7 p.m. The match will be televised on ESPN3.
The Wright State-Samford winner advances to take on the No. 4 overall seed Texas in the second round on April 15. The NCAA Volleyball Championship will be played in a neutral-site format in Omaha, Nebraska.
The Raiders learned their opponent Sunday afternoon as part of ESPN's live Selection Show.
The Raiders punched their ticket to their second NCAA Championship on Saturday, taking down UIC in a thrilling five-setter to give Wright State its first tournament title in program history. Nyssa Baker was named the Horizon League Tournament MVP, while Mallory Ladd and Celia Powers were each named to the All-Tournament team.
This will be Wright State's second consecutive NCAA Volleyball Championship appearance after the Raiders earned an at-large bid to the 2019 tournament, where the Raiders lost to Purdue in the opening round. That selection was the first at-large bid to an NCAA championship in Wright State athletics history.
Wright State played just third five-set matches this spring and only had six matches that went more than three sets on the way to running through Horizon League play undefeated.
Jenna Story was named the Horizon League's Defensive Player of the Year for the second season in a row, becoming the fourth player in league history to win back-to-back honors, while Lainey Stephenson earned the Horizon League's Setter of the Year honors, the first Raider to earn that distinction. In addition, third-year head coach Allie Matters was named the league's Co-Coach of the Year, while Powers and Teddie Sauer joined Stephenson and Story with Horizon League First Team honors.
Samford earned its third consecutive, Southern Conference Tournament title, and four out of the last five years, under head coach Keylor Chan. Samford is led by outside hitter Lauren Deaton, who was named the conference tournament's Most Outstanding Player and the league's Player of the Year. Sierra Rayzor and Corinne Meglic joined Deaton on the All-Conference team and Kenya McQuirter was named the league's Freshman of the Year.
The Raiders and Bulldogs have met once before, in September 1994, a 3-0 Wright State win as part of the Billiken Invitational in St. Louis.
Wright State enters the NCAA Championship with a 16-1 overall record and was undefeated in Horizon League play on the way to its second consecutive Horizon League regular season title, while Samford holds a 15-3 overall mark.