Wright State University will celebrate the innovative spirit of its namesakes and researchers working on campus today with the 10th annual Wright Brothers Day.
Wright Brothers Day takes place Tuesday, Oct. 5, from 11 a.m. to 2 p.m. in the Student Union Atrium. Masks must be worn inside all buildings on Wright State's campus.
More details on the event are available at wright.edu/wrightbrothersday.
Organized by the American Marketing Association Wright State University, Wright Brothers Day celebrates the anniversary of Wilbur Wright's 39-minute flight on Huffman Prairie on Oct. 5, 1905. The flight demonstrated that the Wright brothers had advanced their design to the point of a practical airplane.
The event is designed to raise awareness among students about the accomplishments of Wilbur and Orville Wright, who invented the airplane in their Dayton bicycle shop and conducted most of their early test flights on Huffman Prairie.
The event also connects Wilbur and Orville's innovative spirit with the same drive found at Wright State.
To highlight that spirit, Wright Brothers Day will include displays featuring innovative projects from Wright State researchers and local organizations. Participating Wright State innovators include:
"Autonomous Navigation and Control of UAVs," by Xiaodong Zhang, Ph.D., professor of electrical engineering
"A new treatment for a muscle disease," a neuroscience and electrical signaling demonstration, by Mark Rich, Ph.D., professor of neuroscience, cell biology and physiology and neurology, and Phil Walker, an M.D./Ph.D. student
Direct, real-time sequencing of mRNA by the Center for Genomics Research
A "Netflix analytics" Big Data demonstration from the Master of Science in Marketing Analytics and Insights Program
3D scanning and printing demonstration by Ahsan Mian, Ph.D., professor of mechanical and materials engineering
"Reading in the Dark," a radar imaging and reading radar demonstration by Mike Saville, Ph.D., associate professor of electrical engineering
University Library's Special Collections and Archives, which houses one of the most complete collections of Wright material in the world, will have an exhibit that tests your knowledge on the Wright brothers and the invention of powered flight.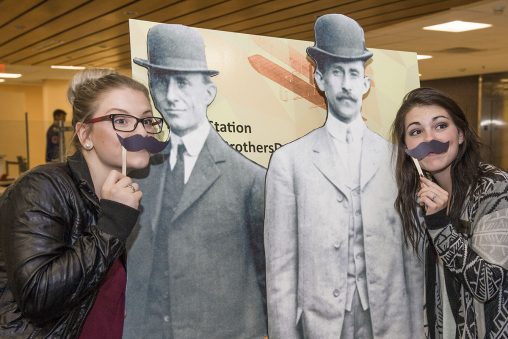 Students can have fun trying out a parachute simulator provided by The GRILL (Gaming Research Integration and Learning Lab) from the Air Force Research Laboratory.
Mackensie Wittmer, executive director of the National Aviation Heritage Area, will give a kickoff address shortly after the start of the event. The National Aviation Heritage Area is a federally designated national heritage area in the Dayton area centered on the activities of the Wright brothers.
The event will also feature a selfie station, a raffle and food and beverages.
Drew Smith, president of the marketing club and a marketing major, said he is excited the marketing club has successfully organized Wright Brothers Day for the last 10 years. "I'm happy we can engage with people again through the event," he said.