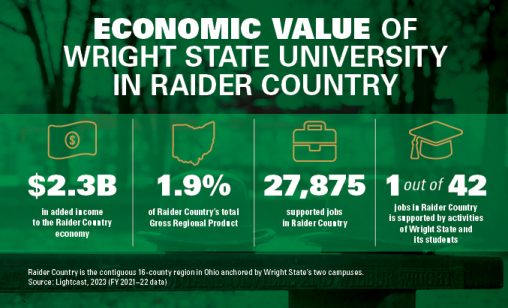 Wright State University adds $2.3 billion annually to the region's economy and supports nearly 28,000 jobs through its operational and research expenditures, a new economic impact study found.
Wright State supplies a steady flow of qualified, trained workers to the workforce, and improves the quality of life in Ohio, with nearly 90% of graduates remaining in Ohio, the highest of any public institution in the state.
"The university plays a key role in helping students increase their employability and achieve their individual potential," the report said. "The university facilitates new research developments and draws visitors and students to the region, generating new dollars and opportunities for Raider Country. Wright State provides students with the education, training and skills they need to have fulfilling and prosperous careers. Its student and employee volunteers support the regional economy through the output and employment generated by regional businesses and organizations."
The report said that Wright State's total impact equals about 1.9% of the gross regional product of Raider Country and is twice as much as the region's entire utility industry.
Wright State supports one out of every 42 jobs in Raider Country, the 16 counties in western Ohio anchored by Wright State's Dayton and Lake campuses: Greene, Mercer, Allen, Auglaize, Butler, Champaign, Clark, Clinton, Darke, Logan, Miami, Montgomery, Preble, Shelby, Van Wert and Warren counties.
Read the full report, "The Economic Value of Wright State University" (PDF).
The study analyzed data from fiscal year 2021–2022, or July 1, 2021, to June 30, 2022. It was conducted by Lightcast, formerly Emsi Burning Glass, a leading provider of economic impact studies and labor market data to educational institutions, workforce planners and regional developers in the United States and internationally.
Over the last five years, Wright State's economic impact has increased by more than 53%. In a similar study analyzing data from fiscal year 2016-17, Lightcast found that Wright State added $1.5 billion annually to the region's economy and supported more than 20,000 jobs.
Lightcast also conducted a related study for Ohio's 14 public universities for the Inter-University Council of Ohio. Read the full report, "Analysis of the Economic Impact and Return on Investment of Education by the Public Universities of Ohio" (PDF).
Impact of Wright State's operations
Wright State University employed 2,075 full-time and part-time individuals to support its daily operations in fiscal year 2021–22, 90% of whom lived in Raider Country. Total payroll was $168.9 million, much of which was spent locally for groceries, mortgages or rent, dining out and other household expenses. In addition, the university spent $77.4 million on its day-to-day expenses for facilities, supplies and professional services.
In addition, Wright State spent $10.4 million on payroll to support research activities, creating a net total of $21.7 million in added income for the regional economy, which was the equivalent of supporting 246 jobs.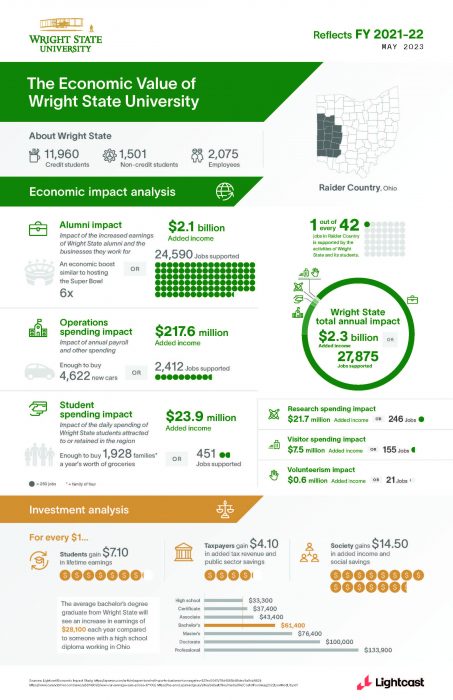 Good investment for students
During FY 2021–22, Wright State served 13,461 students, offering tuition at one of the lowest rates in Ohio.
In return for their educational investment, Wright State students will receive higher future earnings that will continue to grow during their working lives. For every dollar students invest in Wright State in the form of out-of-pocket expenses and forgone time and money, they receive a cumulative value of $7.10 in higher future earnings.
The average Wright State bachelor's degree graduate will annually earn $28,100 more than someone with a high school diploma or equivalent working in Ohio. Over a working lifetime, the benefits of a bachelor's degree over a high school diploma will amount to $1.2 million in higher earnings per graduate.
The university's educational and research opportunities, reputation and activities attract students and visitors from outside Raider Country, whose expenditures benefit regional businesses.
While attending Wright State, relocated and retained students spent money on groceries, accommodations, transportation, and other household needs, generating $23.9 million in added income to the region, the equivalent of supporting 451 local jobs.
Wright State encourages its students and employees to volunteer with local businesses and organizations, helping them to grow, increase their output and impact the economy. The work of Wright State student and employee volunteers is equivalent to $288,300 in earnings and generated $561,100 in added income in the region, equivalent to supporting 21 jobs.
Thousands of visitors from outside the region come to Wright State to attend commencement, sporting events and other university-sponsored activities. They spend money on lodging, food, transportation and other personal expenses. Visitors' off-campus expenditures generated a net impact of $7.5 million for the regional economy, the equivalent of supporting 155 jobs.
Alumni spread Wright State's local impact
Wright State's greatest economic impact on the region comes from the creativity, entrepreneurship, experience and innovation provided by its alumni. More than 67,000 alumni, or about 56% of Wright State graduates, make their living in Raider Country.
In FY 2021-22, Wright State alumni generated $2.1 billion in added income for the regional economy, which is equivalent to supporting 24,590 jobs.
Wright State graduates enter the regional workforce with greater knowledge and new skills and, as a result of their education at Wright State, receive higher earnings and increase the productivity of the businesses that employ them.
Good investment for taxpayers
According to the report, Wright State generates more in tax revenue than it receives, primarily from taxes that the state and local government collect from the added revenue created in Ohio.
Benefits to taxpayers also consist of the savings generated by students' improved lifestyles and a corresponding reduction in government expenditures on health care, the justice system, unemployment benefits and other social services. These benefits will generate a present value of $77.7 million in savings to state and local taxpayers.
Wright State's social benefits equal a present value of $5.1 billion, including $3.3 billion in added student income, $1.3 billion in added business income, $233.7 million in added income from university activities and $256.4 million in social savings in Ohio.
Ohioans invested a present value total of $350.8 million in Wright State in FY 2021–22. For every dollar invested in Wright State, people in Ohio will receive a cumulative value of $14.50 in benefits.