It's just a piece of chalk. But there is something magical and liberating about using it to share your feelings about death and what you want to do before you die.
The responses are scrawled on "The Wall" — a makeshift, four-paneled blackboard that has popped up at various locations on the Wright State University campus: "Raise a family," "See my parents," "Quit drinking," "Forgive my father," "Reconnect with my brother and sister," "Get ready to meet God."
"The Wall" is part of an undergraduate course titled Communicating Through Chronic Illness and End of Life taught by Marie Thompson, associate professor of communication.
"The class is really powerful for me, but what's amazing is how powerful it is for my students," said Thompson.
"The Wall" was inspired by a global art project called "Before I Die" that invites people to contemplate death and reflect on their lives. The project was created by artist Candy Chang on an abandoned house in New Orleans after losing someone she loved. Today there are more than 5,000 similar canvases around the world.
Thompson said we all live in a death-averse culture and that people often don't take the time to think about the end of life and make decisions that will make that transition more peaceful and meaningful for them or their loved ones.
"One part of this class is really about inviting the conversation to Wright State, opening up the conversation to a larger audience," she said. "And their experience with the wall is really cementing what the students are learning in the class."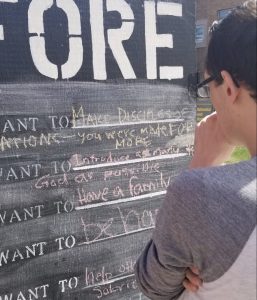 Thompson first taught the course in the spring of 2018. She and her students built "The Wall" over a five-week period at her house using power tools, plywood, paint and stenciling. This year's class set "The Wall" up on campus the final two weeks of spring semester, at various locations, from the Quad to the Student Union. The students staffed "The Wall" on their own time to explain the project, share information and invite conversations.
Thompson had left it up to this year's class to decide whether they even wanted to take on "The Wall" project, which involved a lot of work.
"Every single person in the class came back and said, 'I'm in,'" she said. "They did social media. They did brochures. They did a website. They did the scheduling. They wanted to have this or participate in this experience so much."
Thompson said some students who stop at "The Wall" on campus confuse it with a bucket list, which it is not. She said it is designed to help students and everyone start thinking about the relationship between the end of their lives and how they might they want to live their lives, maybe in ways that are more thoughtful and responsible and in ways that enhance relationships with self and others.
Thompson said some of her students were initially resistant to the whole end-of-life topic.
"Students would say, 'I never thought about this; I never thought I would have to think about this; I don't want to think about this,'" said Thompson.
The class includes students from a variety of majors. The curriculum features journal articles, films and texts as well as the study of information on advanced care directives, living wills, decision-maker roles in families, communicating with physicians and the importance of social support during end of life.
"There is a big part on listening and what it means to be present for people with chronic illness," Thompson said. "A lot of time people don't know what to do with their feelings, so we talk over them. What it tells me about the students is their willingness to be courageous and pick up the tools and apply the tools."
Thompson said the class has been "transformative" for her students, some of whom have a chronic illness or have lost someone to a chronic or terminal illness.
Their experience with class materials and "The Wall" have inspired students to take action in their own lives. "Students will say I haven't been in touch with either a parent or a sibling and I think I really want to re-establish a relationship with them," Thompson said.
As part of the class, the students are required to write journals, which they keep confidential. But they are asked to reflect as part of an assignment that encourages ongoing reflection and reflexivity.
"I had tears in my eyes to hear them talk about how they changed conversations with their parents, changed conversations in other relationships," Thompson said.
Aaron Hill, a social work major from Dayton, said he got more out of the class than he had expected.
"It made me see life and death through a different lens, a different perspective," he said. "I never really thought about death — never have and never really wanted to. But now that I've taken this class, it made me step back and realize I need to start planning for this. You can die anytime."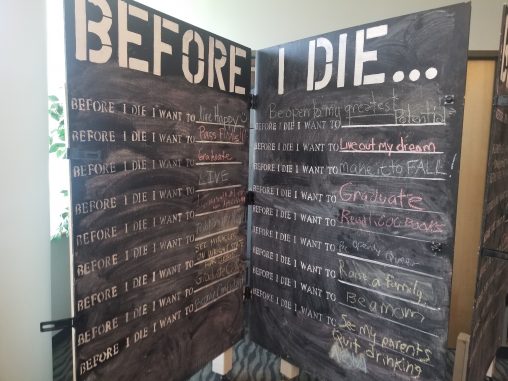 Zach Young, a mass communication major from Centerville, said the class has been a roller-coaster ride for him.
"At first I didn't like it because it really pushes you. It makes you really uncomfortable," he said. "But I've grown to like it. I really do believe truthfully that this is a very important class. It teaches you some valuable life skills."
Hill said "The Wall" can be intimidating for some students.
"You see people staring at it, but they don't come up," he said. "But you can see the emotions and reactions of people when they walk by."
Young echoed that, saying some students will look at "The Wall" and then just walk away.
"But it will be stuck in their minds and they'll come back to it," he said. "It really breaks a lot of social barriers and allows people to be vulnerable in a way."