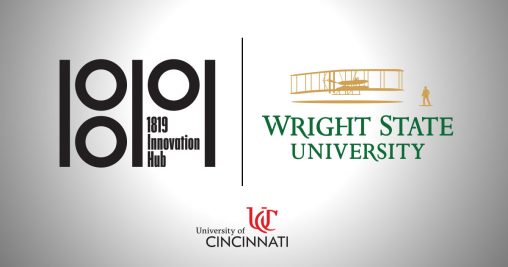 The University of Cincinnati, Wright State University and three other neighboring universities have entered into a partnership that will greatly increase the resources and opportunities available to the region's early-stage startups.
The public-private partnership is the first of its kind led by a public urban research university in the Midwest and among the first in the nation.
Startups formed to commercialize intellectual property developed at Wright State University, Xavier University, the University of Dayton and Cincinnati State Technical and Community College are now eligible for placement in UC's Venture Lab pre-accelerator program at its 1819 Innovation Hub. Startups from each university and college can now connect to the entrepreneurial talent they need to launch their businesses.
"Working together, we can move ideas faster than what any of us could do individually," says UC Chief Innovation Officer David J. Adams. "Universities are the strongest generators of startups. As a unified group, we can attract even more prosperity to this region and move at the speed that the knowledge economy demands. The 1819 Innovation Hub is the nexus that brings all of these efforts together."
The seven-week Venture Lab program connects innovative startup founders with talent and entrepreneurial expertise, speeding up the process of getting ideas to market. Venture Lab will play a critical role in maximizing the strengths of each of the institutions while also providing a swift track for future startups to thrive.
The Venture Lab generated a record 400% increase in startups spun out of UC intellectual property in its first year, and 1,000% increase to date. More than a dozen Venture Lab graduate startups — and counting — have attracted funding. Since July 2019, Venture Lab has connected companies with more than $1.4 million funding from grants and UC investment.
"Ohio is the most innovative, creative, entrepreneurial state in the Midwest," said Lydia L. Mihalik, director of development and chair of the Ohio Third Frontier Commission.  "This partnership will advance more great ideas and build new companies that strengthen Ohio communities."
Opened in October 2018, the 1819 Innovation Hub became the place where innovative ideas and talent collide.
Cincinnati's most high-speed business ecosystem, the 1819 Innovation Hub empowers its partners to connect to innovative opportunities with top talent, from seasoned executives to rising-star students.  The new partnership between these area universities brings greater density of startup concepts and promises to attract even more talent and capital.
The 1819 Innovation Hub is recognized by Forbes as one of the country's top 50 innovation hubs, and anchors the Uptown Innovation Corridor, recognized by The Global Institute On Innovation Districts as one of just 27 innovation districts in the United States. UC is recognized by Reuters as one of the world's top 100 most innovative universities.
"As Wright State continues to grow its innovative culture, we are extremely excited to be able to partner with the University of Cincinnati's pre-accelerator program. This program is available for faculty, staff and students, and can help these budding entrepreneurs better understand the potential opportunities for start-ups and future commercialization," said Wright State University President Susan Edwards. "Additionally, the access to Entrepreneurs-in-Residence (EIRs) from a number of backgrounds helps Wright State participants increase their networks for mentorship and funding. We look forward to supporting our entrepreneurs as they work to create business here in the Dayton area."
"Partnering has always been a key to success for the University of Dayton, especially with respect to innovation, which is part of Dayton's DNA," said University of Dayton President Eric F. Spina. "As such, we are excited to join our regional universities in building an entrepreneurial ecosystem to commercialize more of Ohio's inventions by companies in Ohio."
"The entrepreneurial spirit is thriving right here in Cincinnati and this partnership offers an additional sign of a vibrant community supported by best-in-class universities. This relationship will allow our students to continue to generate new ideas and innovations together to solve complex problems," says Michael Graham, S.J., president of Xavier University.
"We have a great deal of talent in engineering, IT, culinary and business at Cincinnati State who would welcome the opportunity to connect with the Venture Lab and other entrepreneurs," said Cincinnati State President Monica Posey.
Adams is excited about these inaugural partnerships and welcomes other colleges and universities in the region to join.  "It only strengthens our city and regional entrepreneurial ecosystem," says Adams.