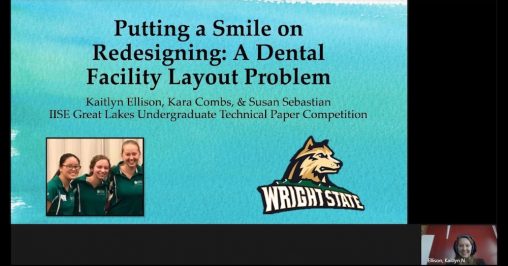 Three Wright State University industrial and systems engineering students captured first place in a major technical paper competition at a virtual conference held by the Institute of Industrial and Systems Engineers (IISE).
Kaitlyn Ellison, Kara Combs and Susan Sebastian won top honors in the 2021 IISE Great Lakes Regional Conference's Undergraduate Technical Paper Competition, which was hosted virtually by Purdue University.
Ellison presented the team's supply chain analysis and design project, "Putting a Smile on Redesigning: A Dental Facility Layout Problem."
In May, Ellison will present again at the virtual 2021 IISE Annual Conference and Expo as part of the Global Finals.
It was the second year in a row that Wright State students finished first in the Great Lakes regional competition.
Industrial and systems engineers have their hand in virtually every kind of business, from designing products to getting them to market through the creative application of mathematics, science, business and human factors skills. They analyze, improve and make more efficient complex systems in manufacturing, health care, supply chain and other areas, keeping in mind the role humans play in such systems.