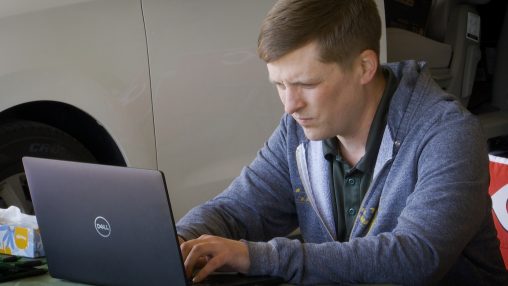 Hundreds of used laptops, cameras and smartphones are in the hands of students from Wright State University and Sinclair Community College thanks to a Wright State initiative.
The technology loan program was launched by Wright State's Computing and Telecommunications Services (CaTS) office to help students, faculty and staff with remote-delivery classes and off-site work.
All in-person classes at Wright State have been moved to remote delivery through the end of the spring semester and most classes through the summer semester to try to limit the spread of the coronavirus (COVID-19).
CaTS began distributing Mac and HP laptops, smartphones for WiFi hotspots, USB microphones, and Web and portable document cameras in late March at a table set up outside Wright State's Dunbar Library.
Nearly 300 pieces of equipment in total have been checked out, including more than 200 laptops.
"Most popular are the laptops which have built-in webcams and mics," said Kenneth Coon, associate chief information officer.
The technology distributions are being made Monday through Friday from 11 a.m. to 1 p.m.
CaTS staff take safety precautions to ensure the well-being of staff and those picking up items.
"Everyone has been very appreciative to have CaTS on campus helping hand out technology for teaching/learning remotely," said Coon. "Most customers tell us how difficult it has been transitioning from campus to home, but that they are slowly getting used to it."
Requests from Wright State students, faculty and staff are collected through the CaTS Help Desk and other online request forms and processed for pick up the next business day.
The names of the Sinclair students are added to a shared list. Sinclair faculty and staff identified Sinclair students who were in need of laptops to complete their courses for the spring semester.
Kimberly Collins, director of university partnerships at Sinclair, contacted Craig Woolley, chief information officer at Wright State, and the Wright State technology loan program was extended to Sinclair students.
Collins said the partnership with Wright State helps students stay on track in completing their education with minimal interruption as a result of the pandemic.
"We want to thank Wright State for extending its technology loan program to Sinclair students in need," said Collins. "This effort is ongoing and many of our students have expressed how appreciative they are to Wright State for making these resources available to them. Wright State has been more than gracious and accommodating to Sinclair students, which demonstrates the importance and success of our partnership."
Nearly 75 Sinclair students have benefited from the laptop loan and outreach to students in need of technology is ongoing. Students have expressed how grateful they are to Wright State for making the technology available to them.
Raquel Parker, a Sinclair student in the Business Management Associate Degree Program, said having access to a laptop has been tremendously helpful since all classes are now online-only.
"I did not have a computer at home and in order to do my business classes I really needed a laptop," said Parker. "I expressed my concern and in a matter of hours I was connected with a person at Wright State University. I now have a laptop that has helped me complete my assignments on time. I am even able to video conference with my professors."
Coon said a few soon-to-graduate nursing students from Wright State and Sinclair who will work at local hospitals picked up laptops and said how much they appreciated it.
"The collaboration with Sinclair and our ability to help them out has been great," said Coon.
Sinclair and Wright State have a longstanding partnership through the Wright Path Program, a transfer partnership designed to enable students to transfer seamlessly to Wright State following completion of their associate degrees from Sinclair.
Remote support from CaTS
For more information about remote support offerings from CaTS, visit wright.edu/remote-help.