In-person learning remains alive and well for some students at Wright State University, with instructors taking creative measures to make the experience as safe and normal as possible.
Around 70% of classes at Wright State are conducted remotely to fight the spread of the COVID-19 pandemic. But about 30% are held in person or have in-person components, with students and instructors following strict safety protocols.
This semester, the Learning English for Academic and Professional Purposes (LEAP) Intensive English Program offers most of its English-as-a-second-language courses in-person. Class sizes are between six and 10 students, making it easy to spread out and physically distance in the classroom.
"Our international students have done a great job masking up and adjusting to the new classroom normal," said Jeannette Horwitz, LEAP program director. "It's not an easy thing being thousands of miles away from home during a pandemic, but they are here, eager to learn and happy to be back on campus."
The LEAP program provides full-time and part-time English instruction and helps non-native speakers develop the linguistic, academic and social skills they need to be successful. It also offers six-week pronunciation classes to students and community members.
Guangyao "Daniel" Chen, a LEAP student from China who intends to pursue his master's degree in business administration, said wearing a mask in class is a new experience.
"We can't see each other's facial expressions but can feel them in the heart," said Chen. "The COVID-19 epidemic does not reduce our enthusiasm in class."
Irena Joseph, lecturer of English language and literatures, said the instructors are prepared to switch to remote instruction at any time if needed, but so far face-to-face instruction is working well.
"The students appreciate having the opportunity for in-person instruction because they are still learning English and they believe that the face-to-face environment helps them learn faster," said Joseph. "They wear masks, use social distancing and clean their desks diligently after class."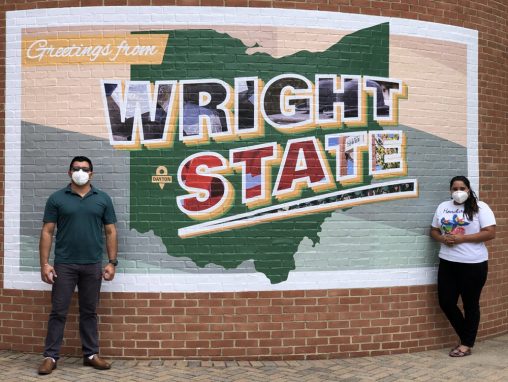 A few students attend the English-as-a-second-language classes remotely, going online to connect live with the classes. One instructor teaches classes entirely online, so some students have a mix of in-person and remote classes.
"The two biggest challenges are trying to keep everyone engaged while trying to be as inclusive as possible with the students attending remotely," said Tom Fenton, lecturer of English language and literatures. "It can be a lot to manage having students in front of me in the classroom and a column of remote attendees on a screen beside me and the lesson content on the projector screen overhead."
LEAP has been unable to hold its usual in-person cultural activities this semester but has found ways to bring students together through virtual gatherings or outdoors, as when students painted the Wright State Rock.
Normally, LEAP holds a coffee and tea gathering on Fridays in the LEAP office. Instead, students have received to-go treat bags and then met on Webex.