Wright State University will recognize select staff and faculty members for their vital contributions to the university with Awards for Excellence.
Recipients will be honored during the Faculty and Staff Awards for Excellence ceremony on Wednesday, Sept. 27, from 3 to 4 p.m. in the Student Union Apollo Room.
The President's Awards for Excellence honor classified and unclassified staff for exemplary performance in the areas of human relations, leadership, service and innovation. The outstanding campus unit and a group of units that collaborate on a significant project or initiative will also be recognized.
The Faculty Awards for Excellence recognize select faculty members for their outstanding work in the areas of teaching, research, community engagement and professional service.
Below are the recipients of the 2023 President's Awards of Excellence and the 2022–2023 Faculty Awards for Excellence. Follow the links to read each of their stories.
2023 President's Awards for Excellence:

Excellence in Human Relations (classified)
Kathy Kuntz, office services coordinator
Office of Alumni Relations

Excellence in Human Relations (unclassified)
Becca Webb, director of enrollment management and community engagement
College of Liberal Arts
Excellence in Leadership (classified)
Vincent Driscoll, lead custodial floor care technician
Custodial Services

Excellence in Leadership (unclassified)
Giancarlo Mariani, associate director
University Center for International Education

Excellence in Service (classified)
Bryan McLean, lead worker
Custodial Services

Excellence in Service (unclassified)
Angie Tipton, budget and project accounts manager
Design and Construction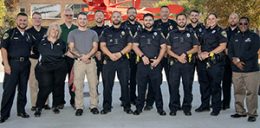 Outstanding Unit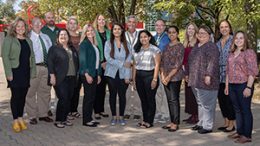 Outstanding Collaborative Unit

Spirit of Innovation
Courtney Laukitis, program manager of student organizations
Office of Student Involvement and Leadership

Spirit of Innovation
Amanda Coffman, coordinator of administrative operations
Lake Campus
2022–2023 Faculty Awards for Excellence:

Trustees' Award for Faculty Excellence
Krishnaprasad Thirunarayan (T. K. Prasad), Ph.D., Professor, Computer Science and Engineering
College of Engineering and Computer Science

University Professor
In-Hong Cha, D.M.A., Professor, Music
College of Liberal Arts
Distinguished Professor Awards:

Brage Golding Distinguished Professor of Research
Sherif M. Elbasiouny, Ph.D., Professor, Neuroscience, Cell Biology and Physiology
College of Science and Mathematics and Boonshoft School of Medicine

Frederick A. White Distinguished Professor of Professional Service
Wakiuru Wamwara, Ph.D., Professor, Marketing
Raj Soin College of Business
Robert J. Kegerreis Distinguished Professor of Teaching
Marie Thompson, Ph.D., Associate Professor, Communication
College of Liberal Arts
Presidential Award for Faculty Excellence:

Outstanding NTE Faculty: Service
Athanasios Bubulya, Ph.D., Senior Lecturer, Biological Sciences
College of Science and Mathematics
Outstanding NTE Faculty: Teaching
Dan Noel, Ph.D., Senior Lecturer, Leadership Studies in Education
College of Health, Education and Human Services

Community Engagement
Sara J. Paton, Ph.D., Associate Professor, Population and Public Health
Boonshoft School of Medicine